a few old newspaper article transcriptions mentioning Porter County's own Broncho John Sullivan
---
Porter County Messenger, Thursday, 18 April, 1895
G. T. Freight House Burglarized.

The Grand Trunk freight house was entered by unknown parties last night. Several trunks belonging to Broncho John Sullivan were removed to the commons near by and rifled of their contents and scattered about. An entrance was effected by removing a window light.

Among the property taken were 10 rifles and several buckskin suits worth about $200. Local talent is suspected.
---
Valparaiso Weekly Vidette, Thursday, 18 April, 1895
SUCH A WICKED CITY!
Is Sodom's Reputation in Danger of Eclipse?
More Highwaymen at Work in the Vale--Broncho John's Arsenal Again Raided.

Another very daring highway robbery is reported, the victim this time being Mark Baker, who is employed on Charles Slover's farm east of town.

Saturday night Baker started, after supper, to walk into town. On the road he was stopped by two men, who looked at him over the glistening barrels of a couple of Winchesters, while they invited him to elevate his hands. Baker kindly complied at once, and the men went through his pockets, securing a little over $6 in money. They then turned him around and started him toward home, with the remark that since he now had no money there was no use of his going to town. He went back but crossed a field and came into Valpo by another road.

AFTER BRONCHO JOHN AGAIN.

The Grand Trunk freight house was once more broken into last night. As was the case before, the outfit of Broncho John Sullivan, stored in the building, was the objective point of the thieves' work.
---
SATURDAY.
. . .

Broncho John found some more of his stolen property today, including some Indian relics and 5 rifles. They were hidden in the neighborhood and were found by some boys. There are still missing nine rifles, three revolvers, two buckskin suits and two other suits, etc.
---
Valparaiso Weekly Vidette, Thursday, 1 May, 1895
WHERE'S MAYNE REID?
Valpo's Brief Reign of Terror at An End.
Those Bold, Bad Highwaymen are Captured and Brought to Jail by Sheriff Stoddard.

From Saturday's Daily.
Where's Mayne Reid, and Old Sleuth and Oliver Optic and all the balance of that merry crew of romancists whose gory tales were wont to set out young blood a-tingle in those other days?

Those of our red brothers in the far West who have, on the advice of the DAILY VIDETTE, been going around with their scalps tied on with a shoe string, and looking for the arrival of the amateur desperadoes who had taken Broncho John's "Injun exterminators" may now rest easy and go out of their wigwams after dark with no further fear so far as Valpo is concerned. And the young men who have hesitated over taking their fair Dulcineas out driving in the dreamy gray of the eventide may calm their anxious fears, dig up their soda water money and lay their revolvers back in their accustomed places in the washstand.

The Valpo highway robbers are in limbo.

Instead of sailing around out on the broad, wide prairie, holding up express trains and rendering poor Lo a bald-headed but picturesque ruin, they are languishing in the dreary corridors of the county jail like a common housebreaker.

Sheriff Stoddard, assisted by Broncho John, this forenoon arrested Dick Thomas and Mert Capers, two young fellows of this city, and they have confessed to practically all of the hold-ups of the past week or so--excepting of course that one on West Main Street for which a dozen or so youths are now still under bonds.

Thomas and Capers were this morning caught out near the Ruge farm. The sheriff has been keeping an eye open for a day or so, and had clues which pointed directly toward the pair. Broncho John also believed they had stolen his guns, buckskin suits and other implements of desperadodom.

They were brought back to jail, and shortly afterward Capers confessed to the sheriff that they had held up Mart Baker, Crawford Miller and Lew Pahl, and were the fellows who had robbed the Grand Trunk freight house.

When captured both boys had revolvers and belts, and Thomas had his mask in his pocket. They said the rifles taken from the freight house had been disposed of at a Chicago pawn shop. The other goods are also in that city in keeping of a friend. There are though [sic] to be still other members of the crowd who were not caught.

PLAYED TEXAS JACK.

The boys seem to have had barrels of fun since they turned their backs upon civilization, so to speak. They visited New Buffalo and drove the staid denizens of that quiet little burg wild by their woolly western antics. The constables and a small army of citizens turned out to chase them, and the young toughs ran, occasionally shooting toward the crowd. They were captured but allowed to go out of town.

For some time they have been laying about the country sleeping in barns and all that sort of thing. Thomas has lived here for a number of years with relatives. Capers is the son of a respected veteran who lives in the northeast part of town.
---
BANDITS BOUND OVER.
Capers and Thomas Have their Preliminary Hearing.
Mayor Suman Sees "A Reasonable Probability of Their Guilt" and They Go Back to Jail.

There was hardly breathing room in the city hall Monday morning, when the two young robbers, Mert Capers, or Coley, and Dick Thomas were brought before Mayor Suman for their preliminary examination.

This first hearing had been postponed until today on account of the detention of Prosecutor Heard at Crown Point in an important legal case. The preisoners were brought over by Deputy Sheriff Green and Broncho John. Both plead not guilty. Thomas was represented by Crumpacker Bros., while Agnew & Kelly appeared for Capers. The right name of the latter youth appears to be Cookey, and he has lived here with his grandparents.

After hearing suficient [sic] evidence to show to the judicial mind a "reasonable probability of guilt," as the statute has it, Mayor Suman bound both prisoners over to the next session of the circuit court. The amount of bonds was fixed at $1,000 each, and in default of these the pair were taken back to the jail.
---
Valparaiso Weekly Vidette, Thursday, 20 June, 1895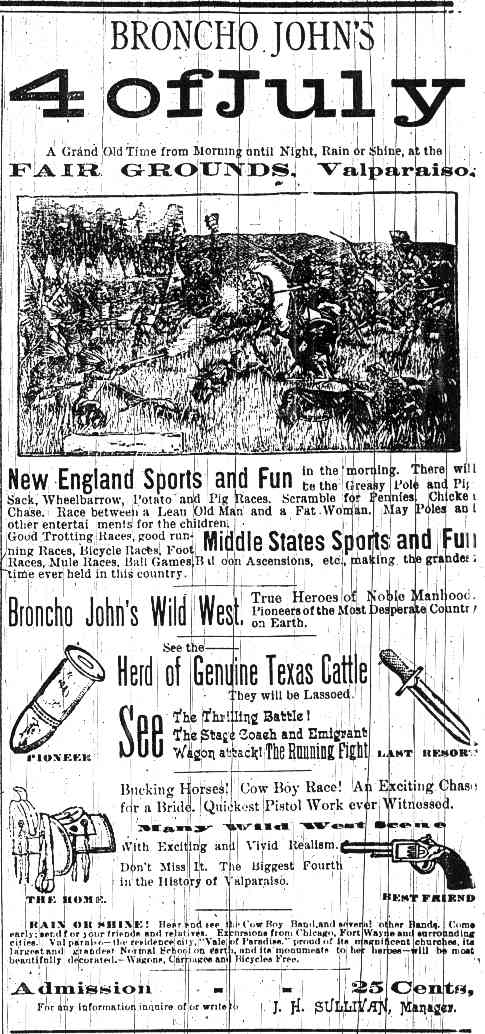 ---
Valparaiso Weekly Vidette, Thursday, 1 August, 1895
ADDITIONAL LOCAL
. . .

Broncho John's Wild West is booked at Columbia City for the 5, 6 and 7.
---
Porter County Messenger, Thursday, 9 November, 1899
"Broncho John" in Japan.

The Kobe Herald published at Kobe, Japan, says: "Broncho John" is rather a notable personality on the transport Port Albert presently at Kobe. Broncho John's "other name" is Mr. J. H. Sullivan. He is transport master and is going to the Philippines in that capacity. He has seen lots of the world--been in the Turkish war, up Egypt way, fighting with American Indians, Cuba and so on. Besides, he knows numbers of the "bosses" in the American Military administration and along that way. He should be able to make Otis "sit up" in his transport arrangements any way.
---
Porter County Messenger, Thursday, 16 November, 1899
Broncho John in Manila.

Major Al Heineman received the following letter this morning from Broncho John Sullivan dated at Inland Seas, Japan, Oct. 12th:

"Our good ship Port Albert left Kobe last night. The weather is grand and the scenery most beautiful. Tomorrow we will be in Korea strait and will go through Formosa strait along the coast of China. Just think I am on the other side of the world from you. We lost four head out of 516 horses and mules. I expect to be in Manila in about ten days. Wallace Wright is the happiest man on earth. He made a great study of the Japs and he seems to like the people but not their ways. He says they don't wear enough clothes, but then the climate don't require it."

This page is at http://www.lincoln.tripod.com/broncho/bronchoj.html.
Created 21 April, 2008.